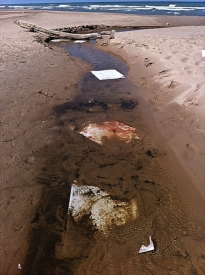 Art with Lake Michigan
I spent a week this Fall (2012) immersing myself in Lake Michigan as part of my work connected to the Great Lakes Commons Gathering at the University of Notre Dame. I created art and put on a five day public performance at the confluence of Dunes Creek and Lake Michigan in Indiana Dunes State Park. I also visited the brutalized community, land, and waters of Gary, Indiana.
---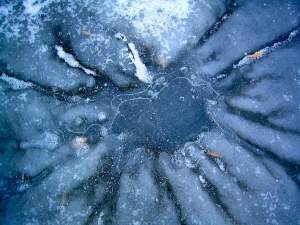 Watershed Moments
Standing on the frozen water one day with a camera awakened in me an eventual shift from being a social documentary street photographer to taking abstract, lyrical pictures of the Upper Mississippi River Watershed. This has allowed me to see our troubled, complex relationship with the source of our drinking water and the creator of our modern cities.
---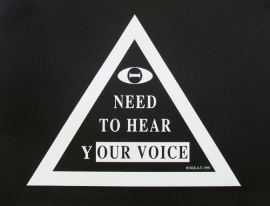 Eco-activism/M.E.A.T.
Activating my work by placing it in non-traditional contexts has been part of my artistic practice since the late-1980's. This has included sticker graffiti art installation and stenciling, creating chemical awareness lawn signs, and street performance art.
---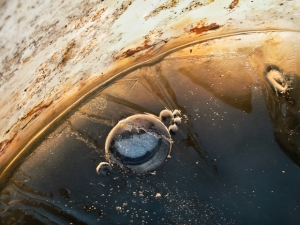 Devastating Beauty
I discover evidence of our human activities whether it be floating styrofoam, oil running towards the rivers or the side of a industrial-size herbicide container. In my working photographic process I seek to create beauty out of the damage I see. This makes our cataclysmic additions to nature not only more palatable to contemplate, but also more difficult to ignore.
---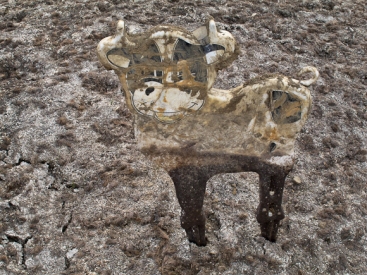 Sedimental Journey
Sedimental Journey

An abandoned iced over fishing hole in the Minnesota River launched me on this journey of seeing, really seeing the Big River. I work as an artist to create community with the River and with all of us that have a bond with the Father of Waters. This exhibition's work was created from, in, with, and by the waters of the Upper Midwest Mississippi River Watershed. I dare to see and make art within the devastating truth and beauty of our toxic relationship with the Big River. Here I am specifically seeing the sediment from farming practices along the Minnesota Valley that is filling up Lake Pepin. I give voice to the River when I share what I see with you. This art making is where I find my deep love of this ecosystem that feeds our bodies and spirit.
---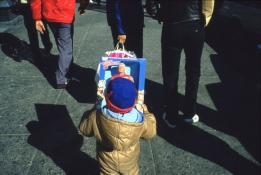 The Main Street
These photographs are from a body of work where I stared into the eye of the American Dream, Mainstream culture, and the people I met on the street. Seeing quiet moments within the chaotic city energy added a new layer to my artistic education. This laid the foundation for me later to be a street performance artist.
---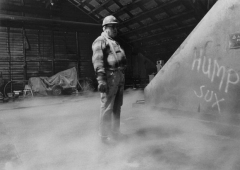 Iron Range
This gallery features examples of my work as a member of the Iron Range Community Documentary Project from 1986-1990.
---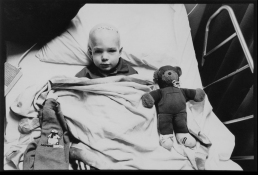 Andrew
I became friends with Andrew during his stays at a local children's hospital that were a constant part of his all too brief beautiful life.